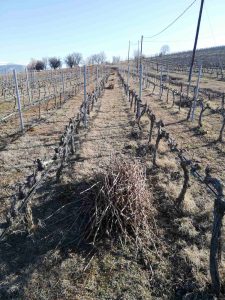 Now that spring is here, the time has come to start pruning the Xinomavro experimental vineyard in Amyndeon.
The vineyard was planted in 2009 on an area of 3500 m2 (0.35 ha) with densely spaced Xinomavro vines of five different rootstocks. Approximately 2300 Xinomavro plants are spaced 1.5 x 1 m apart and double cordon spur-pruned (Royat).
The aim of the experiment is to examine what effects the dense planting conditions have on plant vigor, crop yield and grape quality as well as on the typicity of Xinomavro, for each one of the five rootstocks.
Whilst pruning, vine cuttings are collected and weighed per rootstock to calculate their respective Ravaz index. This is an index that measures the balance of vegetative growth in relation to last year's grape production.