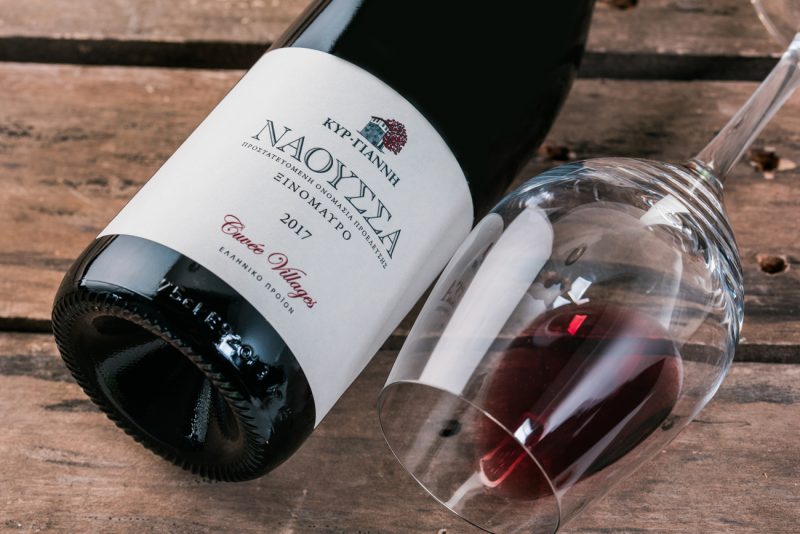 "Naoussa 2017", the new Ktima Kir-Yianni label, is now available!
The history of 5 generations of the Boutari family and the most recent of the Ktima Kir-Yianni are inextricably bound up with the viticultural area of Naoussa. In this small quality PDO (Protected Designation of Origin) zone of Central Macedonia, the king is Xinomavro variety!
"The vineyard in the area was attacked by the Phylloxera and it was almost decimated in the 1950s and 1960s. Then my father Υiannis took the big step with the Ktima in Yianakochori. He planted new vineyards because he wanted to show to all the vine growers that we were not quit; we were here and we would be no matter what  – said Stellios Boutaris, Winemaker of Kir-Yianni. That was the impetus of the vineyard rejuvenation and today the zone is healthy, having 5.000 acres area and young and dynamic producers!"
Ktima Kir-Yianni works on Xinomavro variety as few do. The awards so far of Diaporos, Ramnista, but also of Kali Riza can certify it. Recently, the vineyards "Limni", "Siniaki" and "Cyclamina", the so-called "cru" of Ramnista at the Ktima Kir-Yianni, were released through the online platform www.warehouse10.gr with special bottling for the variety lovers.
So the time has come to launch a "Naoussa Kir-Yianni"! The name is heavy, but it contrasts with the elegance of the new wine. Selected, new vineyards both from the Ktima Kir-Yianni and zone, short extracts and barrels "just so" are the ingredients that make the new wine of Kir-Yianni a modern Naoussa, with intense and vibrant strawberry and cherry fruit, balanced acidity and soft tannins. It could be stand alone or make the perfect accompaniment to red sauces, cheeses, and light fatty foods, such as cold cuts.
"My generation – especially in the Northern Greece – grew up with "Naoussa" especially remarkable on Sunday's family table. It took us many years to launch our own Naoussa Kir-Yanni. I wanted to get there where we are today with the wine and Kir- Yianni – just to be sure that this bottle supports the history of the family, but it looks also to the future, it speaks to young consumers", adds Stellios Boutaris.
"Naoussa Kir-Yianni" is available by the W.S. Karoulias in Greece, AS Xinaris & Sons in Cyprus and the local importers and distributors in the other 36 countries where Kir-Yianni wines are available.
Enjoy!