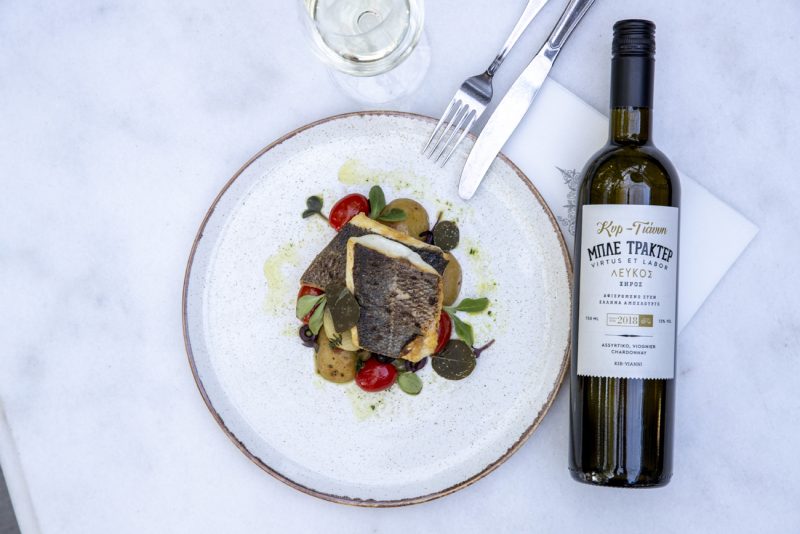 The Blue Tractor takes after the Greek wine grower to whom it is dedicated. Its humbleness gives us the opportunity to daily enjoy true quality.  Versatile, direct, and well attended, it can effortlessly offer great culinary delights.  Yet, it is worth discovering its perfect pairings, which can elevate the gastronomic experience at the highest levels.
Just as its red counterpart, white Blue Tractor is a fine blend that harmoniously marries three varieties of Macedonian Protected Geographical Indication.  The composition consists of two French varieties – Viogner, Chardonnay – and one Greek, Assyrtiko from the cooperating vineyards of Kir Yianni in Northern Greece.  This blend highlights the important traits of the three white varieties resulting in a wine with complex, cool aromatic character and crisp acidity. Through its bouquet, notes of ripe peach, apricot and a touch of minerality, emerge. Through its taste, the aromas unfold their tasty palette, adding to the melody, notes of pear and wild flowers.
The white Blue Tractor is a pleasant daily wine for every occasion. As is the case, of course with every mating, it has its ideal prospective companions.
The most beloved follower of the white Blue Tractor is a citrus vinaigrette. Ktima Kir-Yianni proposes an aromatic and sour sauce that contains all the "gold" of Hesperides and can season perfectly cool fresh salads with green leaves, or cabbage, or celery, or beetroot with rocket. This particular sauce is also well suited for marinating white meats that also pair wonderfully with the white Blue Tractor.
Flexibility and freshness are the secrets in preparing this recipe. One may use all different kinds of citrus juices in combination with olive oil, or just a few of them. You can add honey, vinegar, and mustard or just the latter.  You can intensify the taste with fresh aromatic greens. Whatever you do, maintain a balance in the juices. The recommended analogy is 2 orange, 1 tangerine and 1/2 lemon, or lime. You may add zest of the above, or alternatively bergamot, bitter orange or kumquat. If the zest belongs to one of the large citrus, boil it for 4-5 seconds. Then put the zest and all the juices in the blender, or in a jar, add as much olive oil as tangerine juice, plus a teaspoon of mustard, and whisk for a few seconds until you get a smooth liquid sauce that is kept in the fridge until it is time to pour it over your salad. If you add vinegar, make sure you do not exceed in quantity the lemon juice or lime. If you add honey, one to two tablespoons is enough. When serving, you may accompany your dish with finely chopped leaves of dill and parsley, or mint.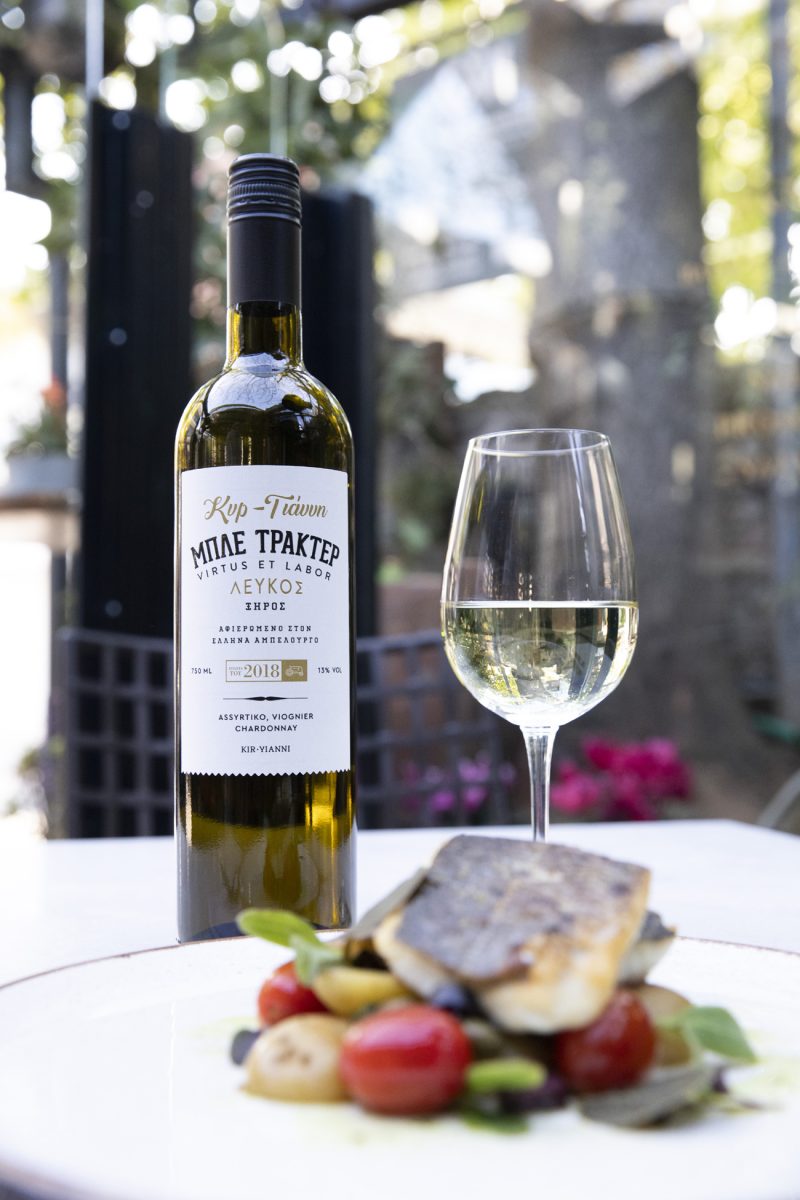 Another excellent match for the white Blue Tractor is grilled fish. With this opportunity, Ktima Kir-Yianni reveals some secrets for good grilling.
First, if your fishes are oiled and at room temperature, then they won't get stuck on the grill.   Second, the grill must be burnt and oiled, while the fire must be moderate. Thirdly, we turn the fishes only once or twice and rub them with olive oil during grilling. For each 400 g of fish, we need approximately thirty minutes of grilling.  Finally, we use a wide spatula to remove the fish from the fire.
The white Blue Tractor is an ideal partner also, for grilled poultry. Another perfect idea for an unexpected and always tasty meal with family and friends is tacos, Arabic pita bread stuffed with roasted chicken, vegetables, and sauce. Encourage your guests to prepare their own dish, choosing from a variety of vegetables and accompanying sauces that will coat the meat perfectly and underline the taste and smell of the wine in the glasses.
The white Blue Tractor is also, the answer for a yellow cheeses' platter. The crisp acidity, the complex aromatic personality and the freshness make it an ideal companion of a gruyere or a semi-hard cheese of short maturation. Prefer cheeses that resemble the wine's character. In other words, select cheeses that are characterized by aromatic complexity, but without much tension, such as Kaseri. You can also, combine it with a Ladotyri from Mytilene made from sheep's and goat's milk which has a deep taste without a strong spicy aftertaste. If you love Kefalotyri, chose one from sheep's milk, with balanced salt and light sweetness.  For more than Greek cheese options, our proposal includes all the solid cheeses with a hint of walnut flavor, such as Emmental, Cheddar, and Gouda. If you end up choosing high-intensity ageing cheeses, add nuts and dried fruits to your platter.
In general, the white Blue Tractor can accompany and highlight a wide range of flavors and especially, make a simple, daily meal a small unexpected feast of pleasure.