Visitors to the village of Nymphaio in Florina have a new quaint landmark to swing by during their weekend excursion, especially if they love wine and all things fine.
It is the newly opened Dadalina's wine shop, a venture by the Kir-Yianni team that wants to save the old-world charm of the community's little grocery stores from disappearing into the ether of time gone by.
Dadalina's is in fact housed in one of the first old corner shops of the village that has been restored. Here one can now taste Kir-Yianni's wines as well as purchase various local products during weekends and public holidays.
Among the beguiling array of articles on the store's shelves there is also the Dadalina's vinegar produced from Naoussa and Amyndeon grapes.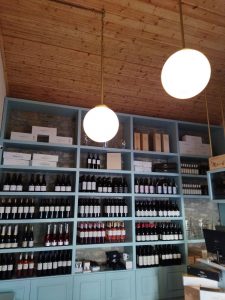 Wine lovers will find a special interest in the wine accessories and Kir-Yianni's collectible merchandise that are for sale.
Soon Dadalina's shelves will get stacked with more produce from the region's producers as well as new limited edition wine releases by Kir-Yianni Estate.
Dalalina's is open weekends and holidays, 11 a.m. to 5 p.m.
For more information, please call on +30 23320 51100