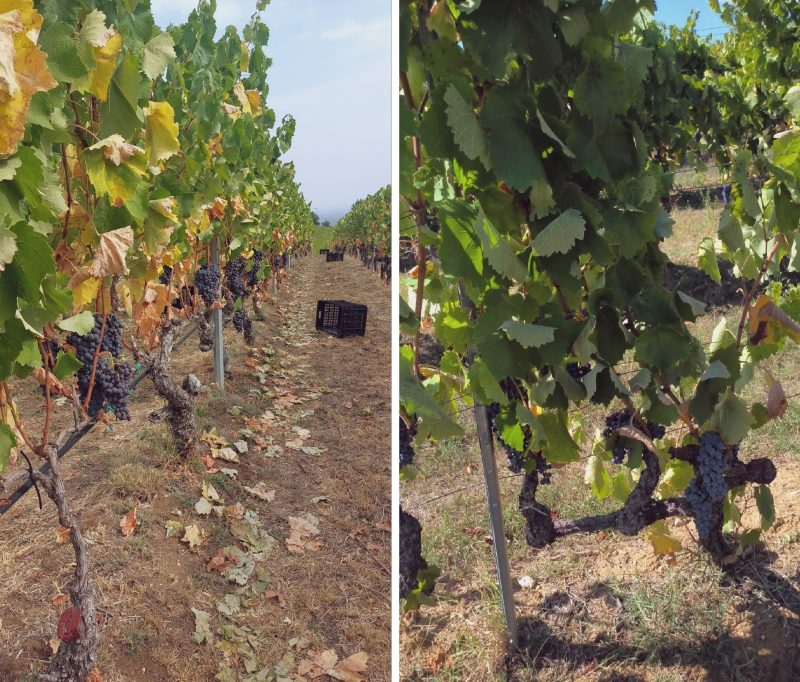 It is early October and a great opportunity for a Xinomavro update from KIR-YIANNI Estate vineyards in Naoussa and Amyndeon, the great Northern Greek terroirs producing the sought-after varietal wines.
At the moment, we are handpicking the last Xinomavro blocks at our vineyard in Naoussa (left), almost a week away from concluding the harvest that  started on September 26th. The sequence and combination of weather conditions met during the year (mild winter, cooler than standards spring, much rain in May and June, dry July and August, 30mm rain on the last day of summer, ideal September with 13-15 °C (54-59  °F) temperature difference between day and night) has offered an ample period of slow ripening. Therefore, our  viticulturists talk about a very good year for Xinomavro. Full ripeness (alcohol and phenolics) that pumps up our excitement to taste Naoussa, Ramnista,  Diaporos and the rosé Agathoto as well.
At Amyndeon (right), harvest started on the 28th September with the collection of the first Xinomavros for our sparkling wines (Akakies Sparkling Rosé). Aiming at high acidity and lower sugars together with phenolic ripeness, the first parcels were the ones near the lakes. Today (11th October) we are harvesting blocks for our  still rosés (L' Esprit Du Lac, Akakies) as ripeness (and sugars) have reached the desired levels for these  wines. At the cooler region in Greece, a by definition late-ripening region, we still have 10-15 harvest days left (mainly for our reds –Kali Riza) till we wrap up. Likewise,  our viticulturists have pointed out that the weather conditions have favored Xinomavro and 2023 will be a vintage to look forward to  thanks to the care and vigilance in the vineyard on the one hand, and the masterful coordination by our chief oenologist Antonis Kiosseoglou on when and where to harvest next on the other.
The long ripening period -with the challenges that may entail depending on the variety and the region- has been the key for 2023 harvest overall. As Stellios Boutaris, KIR-YIANNI Estate winemaker, best sums ups on his preview:
"It seems that climate change is here to stay. 2023 harvest leaves no shred of a doubt about the impact of the changing weather patterns and the necessity of immediate action. A very dry -dare to say warm- winter without the usual snowfalls in both Amyndeon and Naoussa was followed by a nice, cold spring that pushed the ripening back. The very wet June could be a huge challenge for the grapes' health, nevertheless we coped successfully thanks to our vineyard team's mindfulness -they literally did not stop for a single day. In July we had two heat waves, stressing the vines. However, the mild September with its warm days and cool nights "saved the day"!  The year was pushed back by at least a week, so we are still harvesting our Xinomavros. The analytical numbers look good, with great color -more than any other year-, ripe seeds and tannins, and normal sugar levels. After all, we believe it will be like 2017, a great vintage for Xinomavro!  More to come when we taste the wines."
KIR-YIANNI ESTATE 2023 Harvest Report is expected to be released on 16 November.
In case of Press queries, please contact pr@kiryianni.gr
In view of our full report, this is an excellent time to remind you of WORLD XINOMAVRO DAY  on 1st NOVEMBER.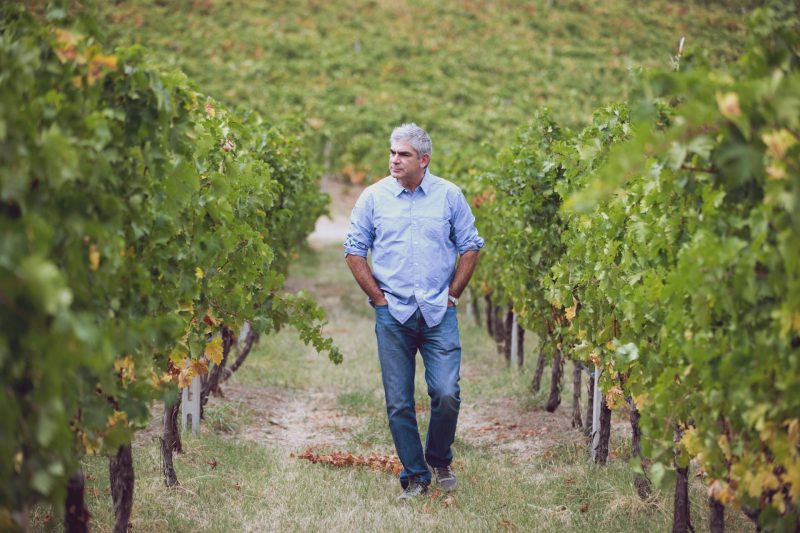 Stellios Boutaris, KIR-YIANNI ESTATE winemaker, at the vineyard in Naoussa.
2023 vineyard data provided by our viticulturists: Babis Parharidis, Naoussa, and Vasileios Mylonas, Amyndeon.