With February 14th just around the corner, there is this tricky question that pops up in the minds of people in love or alone who might be in love but may also be alone: What am I going to do on Valentine's Day? Well you can chew over the same old same old, which admittedly is neither much fun nor is it romantic. Or, you may consider life as your significant other and no matter what your relationship status is, offer a loving day to yourself and your loved ones. Ktima Kir-Yianni has some recommendations for this special rendezvous, and two sparklers to turn your Valentine's Day into an unforgettable memory!
In the beginning is wine
What marks a good date in the beginning is a sense of intimacy or the intention to capture it in little things. Intimately paired with all sorts of special occasions and festivities, Kir-Yianni sparklers – Akakies and Paranga respectively – are that perfect little thing, not just bubbles, but a toast to desire, passion and friendship.
Akakies Sparkling will capture you before even opening its bottle. If joy has any color, this is it; a bright pink visual delight for a multidimensional, gracious wine. Coming from the viticultural zone of Ayios Panteleimon within the Amyndeon appellation in Florina, Northwestern Greece – the only Protected Designation of Origin in Greece for the production of rosé sparkling wines – this playful wine is an excellent interpretation of its variety: a 100% Xinomavro filled with lavish and persistent bubbles. Drink in the explosive aromas of ripe strawberry and cherry, – typical of its grapes – followed by a teasing and refreshing round acidity and a discrete and elegant sweetness.
Paranga Sparkling is a subtle blend of Xinomavro, Moscato, and Chardonnay grapes seducing the senses with its floral notes, fresh aromas of apricot and peach a hint of spiciness, and a drying finish. Each sip uncovers a vivid balanced mousse composed of small-sized bubbles that create a vibrant experience evoking the iconic vineyards of Amyndeon. This elegant white wine aperitif is a great package form bottle to aftertaste, made to please a wide variety of wine lovers.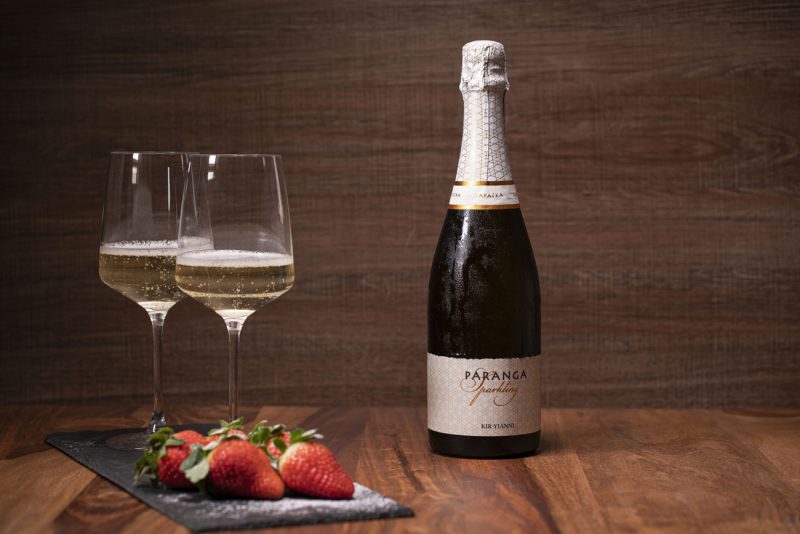 Make it a date
Some of you will be on the hunt for the perfect destination, or share a romantic dinner, others will choose a retreat and all of you can say yes, to an exquisite bouquet of blossoms accompanied by a classy Kir-Yianni bubbly. Here are a few scenarios and ideas to exude and share the romantic feeling of the day.
Imagine a classic romantic with a Paranga Sparkling in the glasses, a fire in the fireplace and treasures of the sea on the plate. Or, combine red forest fruits and strawberries with the aromatic rose bubbles of Akakies Sparkling. A curating out of the ordinary states in the most explicit way that you love and care.
For the rare Valentine who embodies the exceptional code of self-discipline and exuberance, prepare a date unlike any other, based on the concept of "total dark dining in Japan". Heighten your senses of scent, touch and taste with a Paranga Sparkling wine accompanied by sushi courses, like salmon sashimi, sweet and spicy miso paste, and make a mental journey to the erotic and exotic East.
If, however, you are interested in sharing a more traditional experience but at the same time have fun, a salute to sophistication would be "Pink-nic" with an Akakies Sparkling. Enjoy it at a local park if it's warm, or at a 5-star hotel suite if the winter weather insists.
Last but not least, there is also, the classic idea of a spa visit, an experience that will get under your skin. Ramp up the grace and romance of the day with a fine bottle of Kir-Yianni Sparkling, and treatments that include essential oils, water pool therapies and massages. You can go with your sweetheart, or arrange to go with your best friends. After all Valentine's Day is about celebrating the magical feeling of love with the ones you really care.
And don't forget, a dash of amore is to make sure there is enough ice and fine flute glasses for your bubblies!
Happy Valentine's Day and cheers to love!