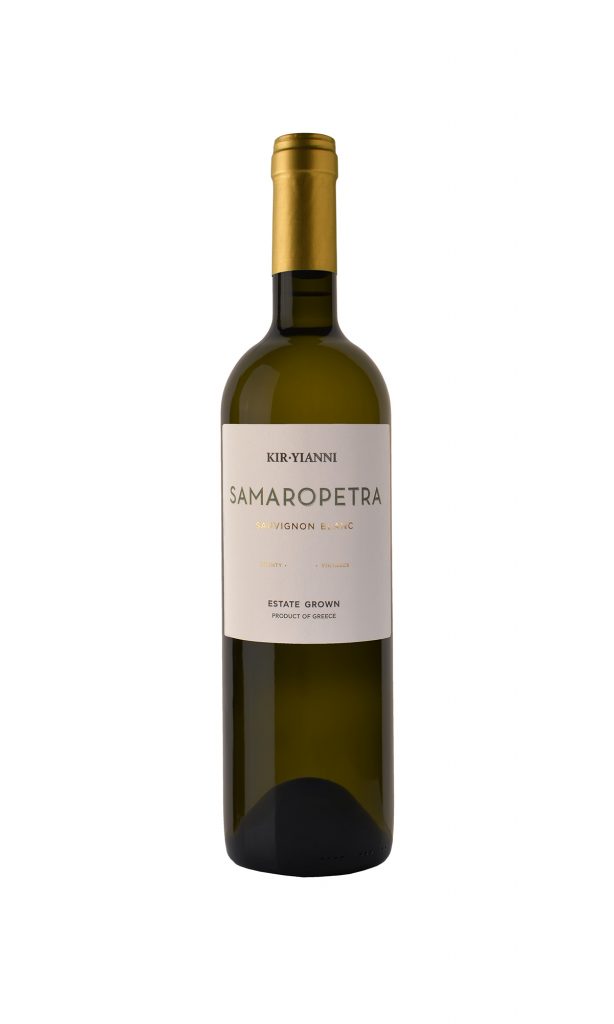 Winemaker's Note

A refreshing Sauvignon Blanc with complex aromas of kiwi, passion fruit and grass. On the palate, the wine is rich with sense of flowers and citrus while it is characterized by a crispy acidity. Long lip-smacking aftertaste composes a beautifully textured Sauvignon Blanc that reflects its cold mountainous origin.
Origin
Samaropetra Vineyard, Ag. Panteleimon, Florina
Food Pairing
Balanced, exuberant, and easy to drink with salads and seafood or on its own as a refreshing aperitif.
Analytical Data
Titratable acidity:
5.3 g/L
Volatile acidity:
n/a
Residual sugar:
1.8 g/L
Phenolic index:
n/a
Color intensity:
n/a
Free/Total sulfites:
n/a
The grapes are sourced from the viticultural zone of Agios Panteleimon within the Amyndeon appellation in Florina, Northwestern Greece. The orientation of the vineyard is west while the inclination is up to 15%. The climate of the area is continental and is characterized by cold winters and hot summers and is tempered by the four surrounding lakes of the area that act as a buffer zone. The high altitude (700m) and the poor sandy soils of the area lead to low vineyard yields (about 60-80 hl/ha) and slow ripening that results in a rare aromatic intensity especially for white grape varieties.
The entire quantity of the Sauvignon Blanc grapes that come from irrigated vineyards go through a period of cold soak, in order to maximize the extraction of aroma precursors into the must. Fermentation takes place at temperature ranges from 16 to 18°C in stainless steel tanks. The last stage is 2-4 months of enzyme-aided batonnage on the lees so the final fatty character of the wine can be shaped.