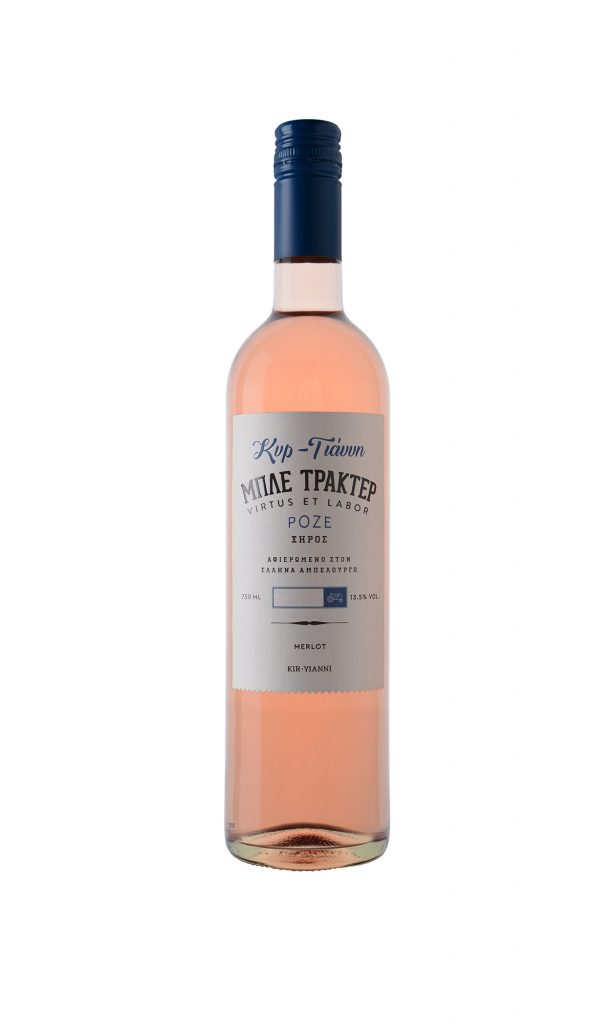 Winemaker's Note

Ble Tracter rosé is a refreshing rosé wine with floral character. Light salmon color with blue hues. The nose is dominated by red fruits, plum and cherry notes while on the palate, the acidity balances with the aromatic intensity with lingering, flavorful finish.
Cellaring
Sur lie and batonnage for 5 months
Origin
Selected contracted vineyards of North Greece, region of Macedonia
Food Pairing
An ideal pair with Mediterranean cuisine dishes while it can be enjoyed as an aperitif.
Analytical Data
Titratable acidity:
4,9 g/L
Volatile acidity:
0,32 g/L
Residual sugar:
1,7 g/L
Phenolic index:
n/a
Color intensity:
n/a
Free/Total sulfites:
n/a
Τhe vineyard lies at an altitude of 700 meters within the viticultural zone of Agios Panteleimon, in the Amyndeon Appelation in North- western Greece, the only Greek P.D.O. for rosé wines. The vineyard's mean yield does not exceed 40 hl/he. The soil is sandy and poor, thus offering the possibility of producing wines of exquisite quality and rich aromas. The microclimate of the region is characterized by cold winters and warm summers, while the four neighboring lakes contribute to the existence of a mild continental climate.
The must comes from the bleeding of Merlot grapes. Fermentation takes places in stainless steel tanks in low temperatures of 17-19οC in order to enhance the aromatic character of the wine. Then Ble Tracter rose goes through a period of regular batonnage (1-2 times a week) for 5 months, so the volume of the wine can be shaped.