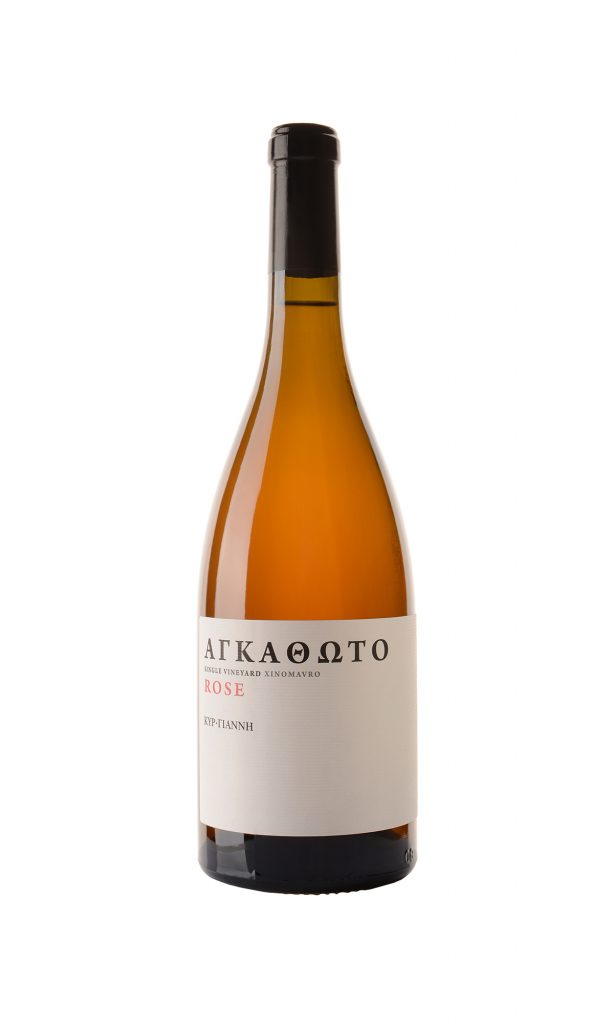 Winemaker's Note

AGATHOTO is a rosé with a unique character and full of complexity, expressive of the heavy soils of the small vineyard in Gastra and of the uncommon fermentation in barrique and interaction during the maturation process in oak tonneau of 2 tonnes for 12 months. "AGATHOTO" is a rosé like no other; one that 'bites' just like its name ('thorny' in Greek).
Cellaring
12 months in oak tonneau of 2 tonnes
Origin
Selected young vines from Kir-Yianni's privately-owned vineyard in Gastra
Food Pairing
The wine's vivid acidity, discretely perceptible tannins and long aftertaste make AGATHOTO very food compatible and the ideal accompaniment to rich dishes of the Mediterranean.
Analytical Data
Titratable acidity:
7,0 gr/lt
Volatile acidity:
0,51 gr/lt
Residual sugar:
1,9 gr/lt
Color intensity:
salmon color
Free/Total sulfites:
In 2012, as part of the winery's ongoing explorative and investigative winemaking endeavors, it was decided to experiment outside of Ramnista. So, Kir-Yianni Estate acquired the small parcel of 0,41 ha on the aforesaid hill in Gastra, which was then owned by Thomas Karanatsios himself. Here, over the span of almost an entire decade, a small experimental vineyard planted to Xinomavro was shaped with the sole purpose of studying how the variety would express itself in it.
The Gastra vineyard of Kir-Yianni is located 1.8 km east of Naoussa at an altitude of 220 meters on a gentle slope with a south-eastern orientation. The climate of the area is Mediterranean with continental influences and characterized by a fair amount of rainfall in winter and mild drought in summer. The soil has a heavy mechanical composition consisting of clay loam and moderate amounts of calcium carbonate, which is ideal for the production of complex wines with intense aromatic richness and long ageing potential. The drip-irrigated vineyard is spur-pruned with the bilateral cordon Royat method, and its planting density is 3470 plants per hectare.
For AGATHOTO only the healthiest grape bunches are used by means of selective harvesting by hand. The grape bunches are destemmed and only the healthiest berries pass from the vibrating sorting table immediately to the vertical press. The juice is then is transferred to 228-liter oak barrels and tanks in which it ferments during 20 days, initially at a temperature of 16°C and later at 19-20°C. The wine is matured in oak tonneau of a capacity of 2 tonnes for 12 months before being bottled and released to market.