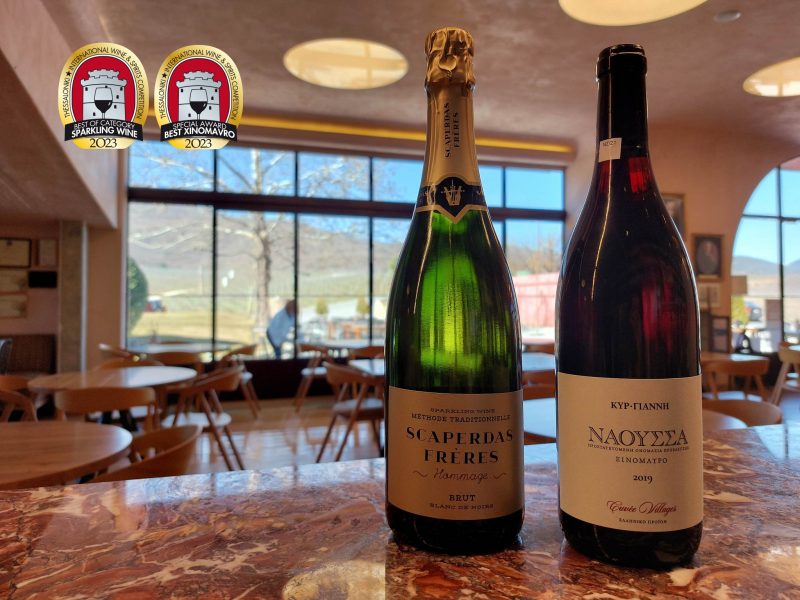 Two "Best in Show" distinctions  were the highlight of our performance at the 2023 Thessaloniki International Wine & Spirits Competition that was  drawn to a close yesterday (18 Feb) with the announcement of the results. 19 medals in total were awarded to KIR-YIANNI, across the wines of the portfolio produced in Naoussa and Amyndeon.
Our NAOUSSA KIR-YIANNI CUVEE VILLAGES 2019 brought home the "SPECIAL XINOMAVRO AWARD", standing out among all the submitted Xinomavro wines at the Competition with a most impressive score of 94 points. This wine is our introduction to the unique Northern Greek red variety as expressed in the Naoussa terroir.
The second special distinction was again about Xinomavro, this time from our estate in Amyndeon and a brand new sparkling (passion) project of ours; SCAPERDAS FRERES BLANC DE NOIRS METHODE TRADITIONNELLE NV won the "BEST SPARKLING WINE IN SHOW", only a few days before its official release in the market. This premium limited production wine -together with the rosé version of the SCAPERDAS FRERES family- is the capstone of both the fervor and experimentation by our winemaker Stellios Boutaris and our chief oenologist Antonis Kioseoglou; For 16 years now, their work on producing sparkling wines -based mostly in Xinomavro-, is constantly evolving, while adding notable investment and building up craftsmanship and creativity.
Congratulations to the KIR-YIANNI team of oenologists and agriculturists for their dedication and work.
Our awards in total:
NAOUSSA KIR-YIANNI CUVEE VILLAGES 2019 / SPECIAL XINOMAVRO AWARD / Gold (94 points)
SCAPERDAS FRERES BLANC DE NOIRS NV / BEST SPARKLING IN SHOW / Gold (91 points)
L' ESPRIT DU LAC 2022 / Gold (91)
DIAPOROS 2018 / Silver (90)
BLE TRACTER Red 2021  / Silver (89)
SCAPERDAS FRERES ROSE  NV / Silver (88)
KALI RIZA 2019 / Silver (88)
AGATHOTO 2021 / Bronze (87)
AKAKIES 2022 / Bronze (87)
GOUMENISSA 2019 / Bronze (87)
DYO ELIES 2019 / Bronze (87)
BLE ALEPOU 2020 / Bronze (87)
BLE TRACTER White 2022 / Bronze (86)
TARSANAS 2019 / Bronze (86)
RAMNISTA 2018 / Bronze (86)
MALAGOUSIA 2021 / Bronze (85)
PARANGA White 2022 / Bronze (85)
PARANGA Red 2021 / Bronze (85)
SAMAROPETRA / Bronze (85)