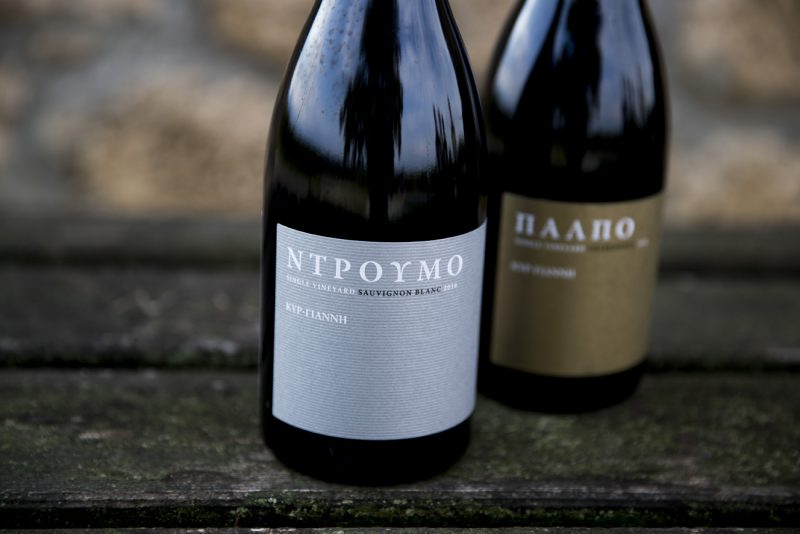 Given that Kir Yianni is a family wine business every bottle has an array of charming stories to tell; some moving, some grounded to earth, some about viniculture and some about winemaking. On the inspiring and delicious front, these four premium varietal white wines are crushing it!
Assyrtiko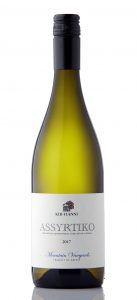 Assyrtiko is one of the most important native varieties of Greece, and one of the greatest found in Mediterranean.
It is a classy white grape, coming from the Santorini island of Cyclades. Thanks to its high resistance in difficult, hot, dry climatic conditions it can grow in many other parts of Greece and keep the high alcohol perfectly balanced by its crisp acidity.
Actually, Assyrtiko is the best opportunity to talk about acidity, one of the most powerful values in a wine, which always raises its shares in the wine exchange.  Natural acidity is the key element, which gives wines their fresh, dynamic, and intense character and allows the wine to evolve and age over the years.
Kir Yianni Assyrtiko from the Mountain Vineyards is a refreshing, vigorous wine with excellent natural acidity and firm, complex structure. It's grapes come from selected blocks of the Amyndeon, PGI Florina, North Greece. Thus, it is also, known and cherished as the "Mountainous Assyrtiko" of Greece. It has the power to age up to four years and fascinate the most demanding wine people; a worthy relative of its volcanic counterpart from Santorini.
Droumo, Sauvignon Blanc
People say pioneers are the ones who see a road where others see a wasteland. Droumo means "road" and it is one of the premium single vineyard wines that owes its' birth to Kir Yianni's founder.

Yiannis Boutaris started to experiment with the plantation of Sauvignon Blanc in Amyndeon in 1989.   He was the first winemaker in Greece who believed that the cold climate and the special characteristics of the area would benefit this widely planted "wild white" grape. Today, the 14-acres Droumo vineyard produces the oldest Sauvignon Blanc of the region and probably of all country; it is one of the most complete and interesting Sauvignon Blanc in Europe. For many years the fruit produced in Droumo was the core crop of the very successful Samaropetra blend. Since 2014, it has been bottles separately in a limited number. Yiannis Boutaris opened the road and his sons established the label.
Droumo is characterized by fresh aromas of cut grass and kiwi, typical of its variety. With its herbaceous and white flowers notes, its generous body, pronounced acidity, and long lasting aftertaste, Droumo has become one of the most iconic labels of Kir Yianni.
Palpo, Chardonnay
Greece was first introduced to Palpo in 2014, when crisis was in full swing. It is an oak-fermented, limited production Chardonnay, a variety which by itself is an inspiration for its unexpected and humble pedigree.

As the DNA fingerprinting research at the University of California, Davis proved in the late 1990s, Chardonnay is an accidental wild cross between the capricious French variety Pinot Noir and an ancient almost extinct grape varietal called Gouais Blanc, a name suggesting that it was the grape of the peasants. Of course these bizarre origins did not prevent Chardonnay from continuing its career as one of the most popular and virtuous varieties in the world.
Palpo illustrates the Chardonnay's birth and growth with its emblematic name and truly inspirational story. Its' vineyard of about 10 acres was planted in 1990 by Yiannis Boutaris, the founder of Kir Yianni. Twenty-two years later, while he has been serving as the mayor of Thessaloniki, an unknown person tried to destroy it. More than 2,000 stumps were cut just a few centimeters above the root.
However, just before germination began, the damaged vines gave new shoots and the vintage of the same year produced a very small harvest that was experimentally vinified.  The result was astonishing and the idea of a varietal wine was born. Beyond every expectation, Palpo, made it. Today, this punchy, stylish, and ultra buttery wine inspires us to enjoy life and work hard, to dare and experiment; it is a reminder to never give up.