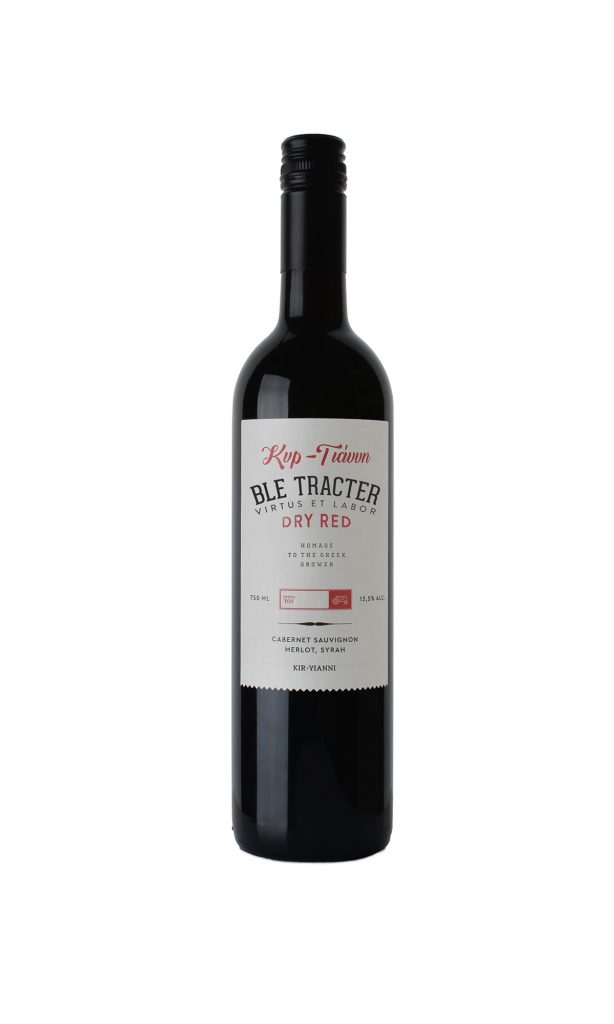 Winemaker's Note

Ble Tracter has a a rich, deep ruby colour with blue hues. The nose shows complex aromas of blackcurrant, plums, black pepper and vanilla. On the palete, it is dry, with balanced acidity and soft tannins, full body and intense aromas of black fruits, pungent and sweet spices and some herbal notes.
Varieties
Cabernet Sauvignon, Syrah, Merlot
Cellaring
8 months in steel tanks and a part of the blend in oak casks
Origin
Selected contracted vineyards of North Greece, region of Macedonia
Food Pairing
A modern, fruity, very well balanced wine that accompanies meat dishes, pasta, mediterranean cuisine and is also enjoyable by itself.
Analytical Data
Titratable acidity:
5,3 g/lit
Volatile acidity:
0,57g/L
Residual sugar:
2,6 g/lit
Phenolic index:
n/a
Color intensity:
n/a
Free/Total sulfites:
n/a
Following a careful hand harvest and overnight cooling to 4oC the grapes are sorted on a double conveyor belt before crush. After a five-day pre-fermentation cold soak at 10oC, the must undergoes a 15 day vinification in stainless steel tanks at controlled temperature ranges from 20-24oC. Then, batonnage is applied on the lees twice a day in order to increase the volume of the wine. A part of the blend matures in oak casks while the final blend undergoes malolactic fermentation. Before release, the wine stays in the bottle for 2 months.