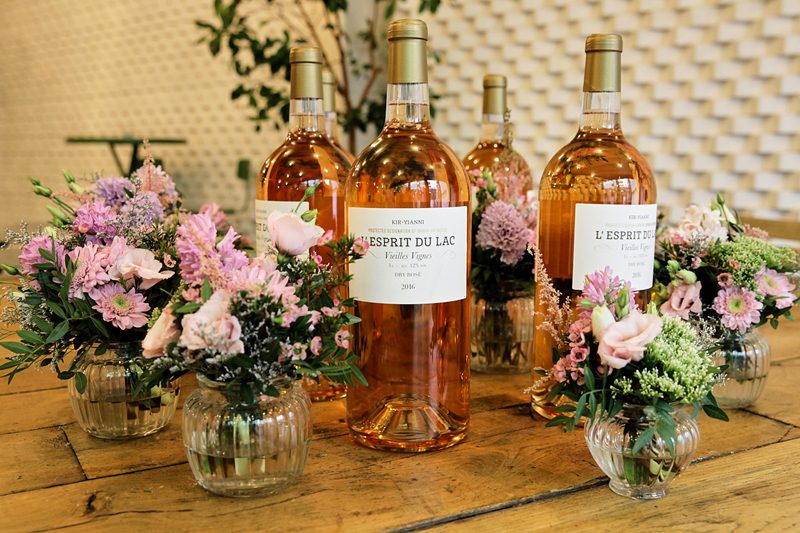 How is rosé wine made?
Let's clear out a misunderstanding: rosé is not the result of mixing white and red wine. This blending method is rarely and exclusively used in Champagne, the historical province in the northeast of France.
A second method that is also, hardly used is the Saignée method, where a part of the must is separated intended to give more intense and concentrated red wines and the one which is removed becomes rosé.
The third and most classic practice for the production of rosé wine is red vinification of red grapes by extraction (Maceration Method). At Ktima Kir-Yianni, the variety we use for our four rosé labels is exclusively, Xinomavro with the exception of Paranga Flowers that is a combination of 80% Xinomavro and 20% Merlot.
How does a wine become pink?
The skins of each berry have red water-soluble pigments called anthocyanins. To make a red, or rosé wine, the anthocyanins must come into contact with the grape juice at a specific temperature and for a specific time. This process is called extraction and differs from grape to grape and from vintage to vintage. The man who determines the duration and extraction temperature, hence the color of the wine is the winemaker. The winemaker's experience and rational play the key role in the final quality of every wine.
How would we describe rosé wines?
Aromatic, particularly fruity, cool and fresh with a strong personality and versatility, because they can ideally accompany an enormous range of flavors and be consumed either as aperitifs, but also as desserts.
In addition to dry, there are also, semi-dry and semi-sweet, while playful and exciting are the sparkling rosé.
In Greece they are usually made of a blend of varieties. At Ktima Kir-Yianni however, we have chosen a varietal structure for the three of our four labels from the Xinomavro of Amyndeon appellation of origin.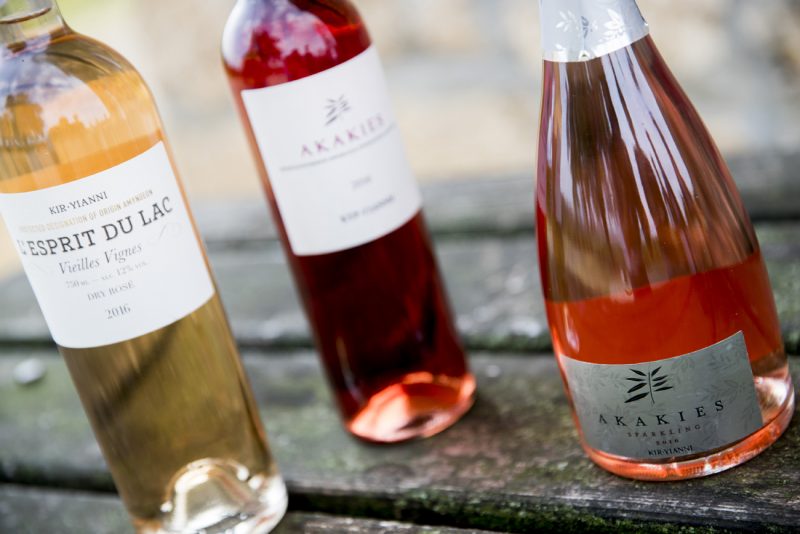 What is the profile of a Xinomavro rosé?
It depends on which Xinomavro rosé we are talking about. At Ktima Kir-Yianni we offer four different labels each one of which has its own distinct personality.
The Akakies wine features powerful aromas of strawberry and taste of small red fruits. It is well structured and vividly refreshing, almost like a red light wine; a different rosé with an alcoholic degree of 12.5%.
Akakies Sparkling is a stylish dry wine with an intense pink colour, vibrant aromas of red fruits and roses, exuberant bubbles that highlight the complex aromas of Xinomavro, rich mousse with vivid acidity, an explosive well-balanced character, long lasting aftertaste, and an alcoholic degree of 11.5%.
Esprit du Lac – the Spirit of Lake – is a wine with finesse in the Provencal style rosé with a pale orange-tinted pink colour. It comes from old Amyndeon vines aged 30 years and over, which give less production but better grapes. It is elegant, light, with flowers' and white flesh fruit's aromas dominating the nose, a refreshing palate that follows the aromas with extra notes of strawberry, mushroom and tomato leaves, and a long aftertaste.
Paranga Flowers is a semi-dry, bright wine with a salmon color, grace and character. One the nose, vivid aromas of white peach mingle with fine notes of white flowers, while on the palate the refreshing acidity balances with the subtle sweetness, which contributes to a wine with rich mouthful body and a prolonged aromatic mildly sweet aftertaste.
Is Akakies Sparkling pink Champagne and how does it get its bubbles?
Akakies Sparkling is definitely not Champagne. This is a name exclusively for the sparkling wines that acquire their bubbles with a second ferment in the bottle and come from Champagne. All other bubble wines of the planet are called sparkling wines.
Akakies Sparkling belongs to this playful and charming category. For its production we follow the cuve-close method, adding concentrated must. The second alcoholic fermentation follows, in small autoclaved tanks that retain the carbon dioxide produced during fermentation. Then we bottle the wine following an isobaric process to capture its precious bubbles, which are an indication of high quality.
How can we enjoy a rosé wine?
Rosé is drunk young, like a white wine. Its typical aromas which occur due to the constituent chemical compounds produced during fermentation, called esters, have a short term life, so after a while the wine will loses its identity. Akakies and Paranga Flowers can aged up to 2-3 years, while Esprit du Lac 5 to 7 years old.
Two more important factors are the glass with its stem and the temperature. Rosé is served cool or frozen at a temperature of 7 to 11˚C. It is also the only wine that can be consumed with some ice but only under extremely hot temperatures.
Regarding pairing it works as a passe-partout, since it can accompany most dishes, from Mediterranean to spicy exotic! That is the reason why so many prefer it instead of red during the summer. Generally, given Greece's climate, cuisine and lifestyle, rosé wine is an excellent choice as it meets many needs and different tastes.
Can rosé wines be identified as female, male, or just, a fashion?
Rosé is a trend that is here to stay. And this has to do with the vast development of vinification of outstanding rosé. It could be said that its rapid increase in production has caused a pink revolution, since in only three years its consumption has more than doubled with men drinkers taking the reins from women and establishing the so-called "brose", a new term deriving from the words "brother" and "rosé" meaning "a man company with wine glasses and a pink wine on the bottle". In short, whatever stereotype you have ever known about rosé wines, just, forget it!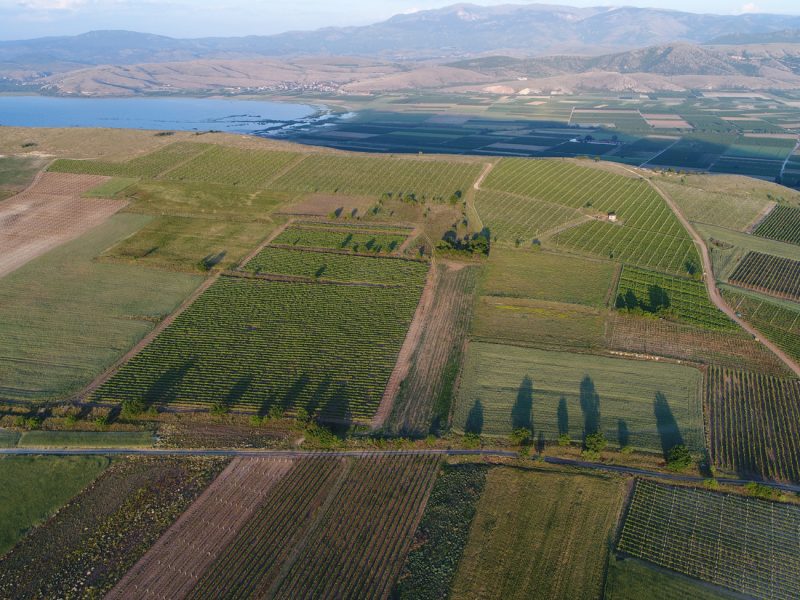 What are the special features of Kir-Yianni rosés?
They belong to the privileged zone of Amyndeon, which is the only PDO (Protected Designation of Origin) region for rosé wines in Greece. Terroir and Xinomavro variety create a supreme combination that offer powerful rosé and sparkling wines. Each label has its own identity and that makes the rosé range of Kir-Yianni competent to meet different taste requirements and life occasions.