Guided Tours and Activities
Plan Your Visit
Vines on rolling hills in the shadow of the majestic Vermion mountain. This idyllic scenery blessed by nature is the home of Kir-Yianni Estate, one of the most renowned Greek wineries around the world. Located in Naoussa in Northern Greece, a city that is known as the heartland of the celebrated red variety of Xinomavro, it is just a 90-minute drive from Thessaloniki.
Arriving at Kir-Yianni is very much like stepping into a vibrant, openhearted world of authentic charm, unpretentious elegance, and a cool adventurous spirit seeking to exploring both long-lasting traditions and inspiring possibilities of Greek wines; traits growing out from the iconic founder Yiannis Boutaris and his son Stellios, 5th generation winemaker, that carries on and, most importantly, recreates this outstanding heritage for the last two decades.
Our Wine Tourism facilities offer a variety of experiences (guided tours, wine tastings, restaurant, picnics, e-biking, walking trails etc).
We are open throughout the year, offer free parking and full accessibility for people with disabilities.
Explore the options and contact us for more info and reservations at epalamida@kiryianni.gr 
OUR TIMETABLE: 11:00 – 18:00 from TUESDAY TO SUNDAY.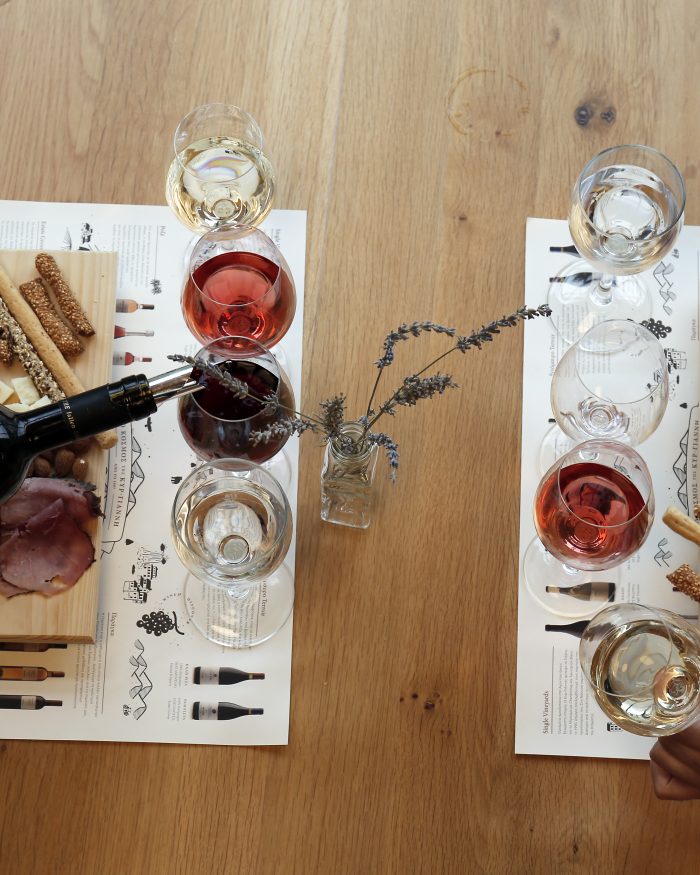 Different wine tasting packages to suit anyone's fancy
Choose from a selection of wine tasting packages that vary from flights of 3 to 12 different labels. Anyone can tailor their own tasting experience to their heart's content.
The wine tasting packages include tasters from a selection of 25 labels of red, white, rosé, sparkling, aged and dessert wines from the vineyards of Naoussa and Amyndeon.
3/ 6 / 9 / 12 labels
Each wine tasting package comprises an individual food platter.
The wine tasting packages include 3 to 12 wine samples, as you prefer.
Each wine tasting package consists of:
– a winery tour
– 3 to 12 different wines served by the glass (30 ml each)
– an individual platter of Graviera, breadsticks, dried fruit and seasonal jam
The packages are subject to change according to the vintage.
Timetable:
Tuesday to Sunday
11:00 – 18:00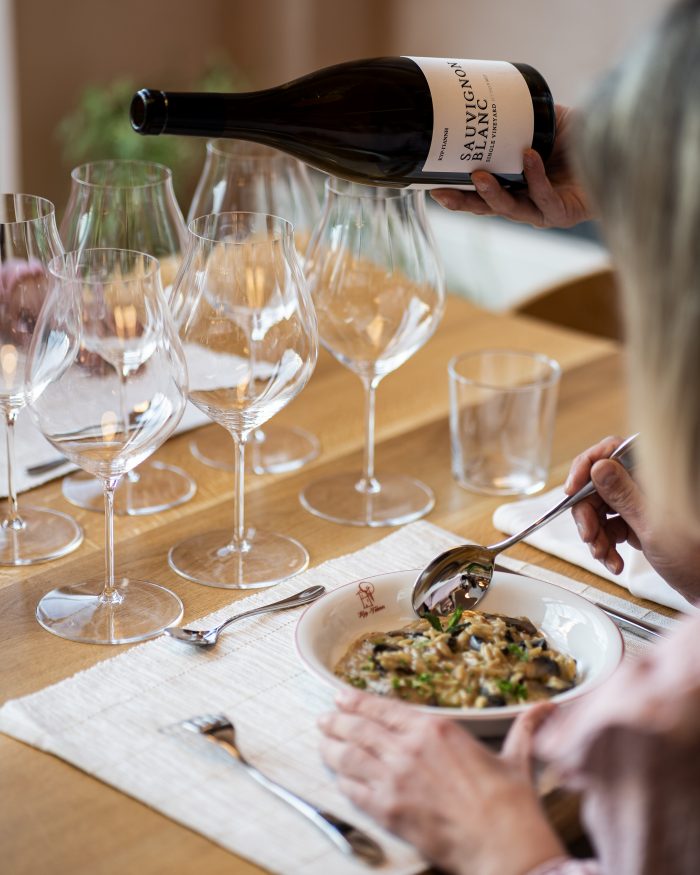 Create your own wine and food pairing
For those who wish to tailor their own wine and gastronomic experience at Kir-Yianni Estate, there is an à la carte menu to choose from.
The menu is curated by renowned executive chef Kyriaki Fotopoulou, who has expertly paired the local flavours with the matching Kir-Yianni wines.
Feel free to choose your preferred dishes and do not hesitate to ask the staff for their wine and food pairing recommendations.
The à la carte wine and gastronomic experience at Kir-Yianni Estate is strictly by reservation only.
Kindly inform us of any food allergies or intolerances.
Timetable:
Tuesday to Sunday
11:00 – 18:00
Food and Wine Pairing Menus
A perfect harmony of food and wine
Visitors who want a fashioned and complete gastronomic experience can choose from two curated wine and food pairing menus prepared by our Chef Kiriaki Fotopoulou, and indulge in the local cuisine accompanied by Kir-Yianni wines.
Two menus to choose from (click on the links below) and get a taste of traditional recipes with a graceful creative twist  in perfect harmony with our wines.
MENU A – 35,00 euros per person
MENU B – 65,00 euros per person
The Food and Wine Pairing Menus at Kir-Yianni Estate are available strictly by reservation only.
Kindly inform us of any food allergies or intolerances.
Timetable:
Tuesday to Sunday
11:00 – 18:00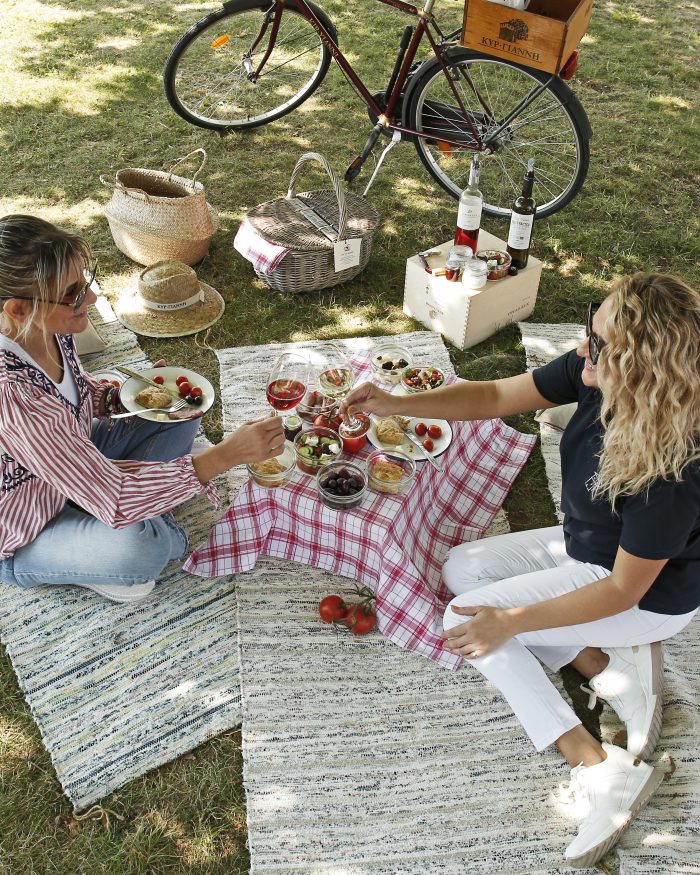 A unique experience for the whole family
Sun, a basket full of deliciousness and great wine. Take a moment to relax with family or friends in the heart of the Kir-Yianni vineyards, weather permitting of course.
After a guided tour of the winery and Estate, you receive our exquisite picnic basket packed with deliciously fresh food and the Kir-Yianni wine or wines of your choice.
For the youngest friends of the Estate, the basket will include a complimentary sandwich and a juice – or they may bring their own lunch.
Stroll and pick your own picnic spot following the special signage marking the designated areas in the vineyards of the Estate and indulge whilst you are surrounded by nature.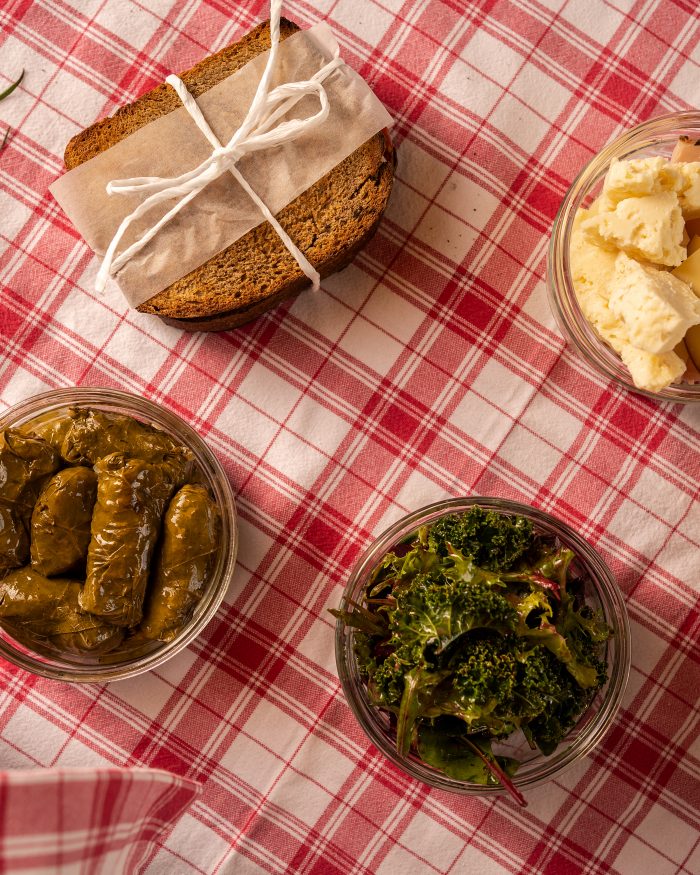 The basket contains:
– 1 bottle of Kir-Yianni wine
– an individual Greek salad
– a selection of cheeses
– home-made bread sandwiches with cold cuts
– hand-rolled Dolmades from Xinomavro leaves
– sweet yoghurt with dried fruits
The picnic experience is by reservation only.
The package includes the tour, wine and food basket.
In case of bad weather, you will be able to enjoy your basket on the sheltered balcony of the Estate overlooking the vineyards.
The picnic takes place at the area of the Estate of your choice, using either the setup provided by us or at a table.
Timetable:
Tuesday-Saturday
11 a.m. to 6 p.m.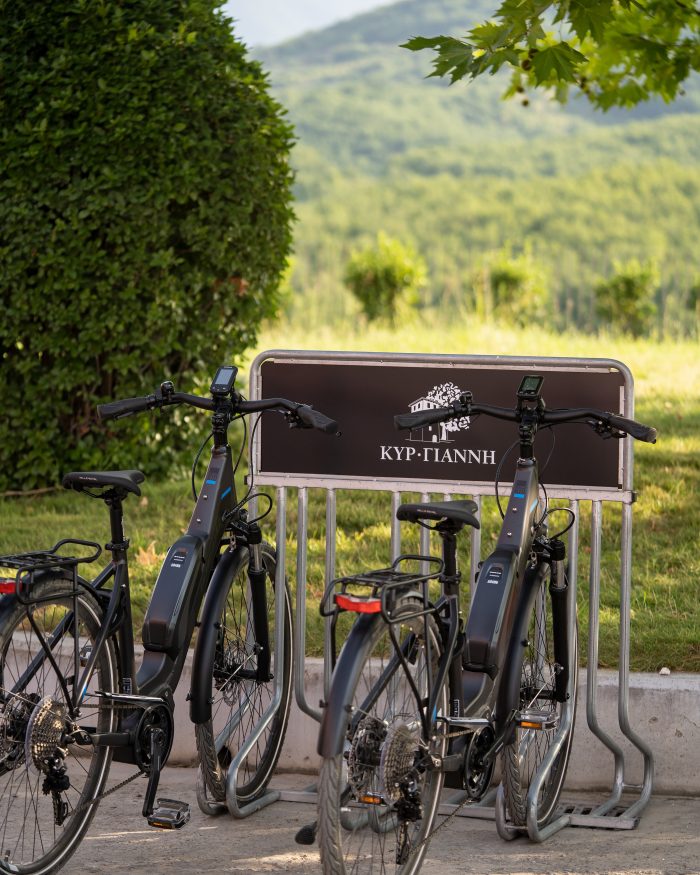 Explore the Estate on two wheels
Set out on one of two awe-inspiring bike routes of different difficulty.
At Kir-Yianni, you can pedal through the gorgeous rolling vineyards on our electric bikes, or you can bring your own bicycle for the ride.
Cruise up and down with ease on the more relaxed route or take the more difficult path if you are up for a challenge. Both ways are clearly signposted, and you will be provided with a handy map too.
Our Bike Experience (bike trails and full package) is a Certified BIKE FRIENDLY PARTNER,
The bicycle package includes:
– a guided tour
– a show-round of the bicycle route
– an electric bike (alternatively your own bicycle)
– helmet, gloves and mobile phone holder (subject to availability)
– mineral water
The charge for bringing your own bicycle is 5 Euro.
The time limit of the e-bike use is 60 minutes per rider.
Booking is required for the cycling package and the use of protective equipment is mandatory.
For safety reasons, children under 12 years of age are not allowed to cycle.
Timetable:
Tuesday to Sunday
11:00 – 18:00
The Yiannis Boutaris Hall