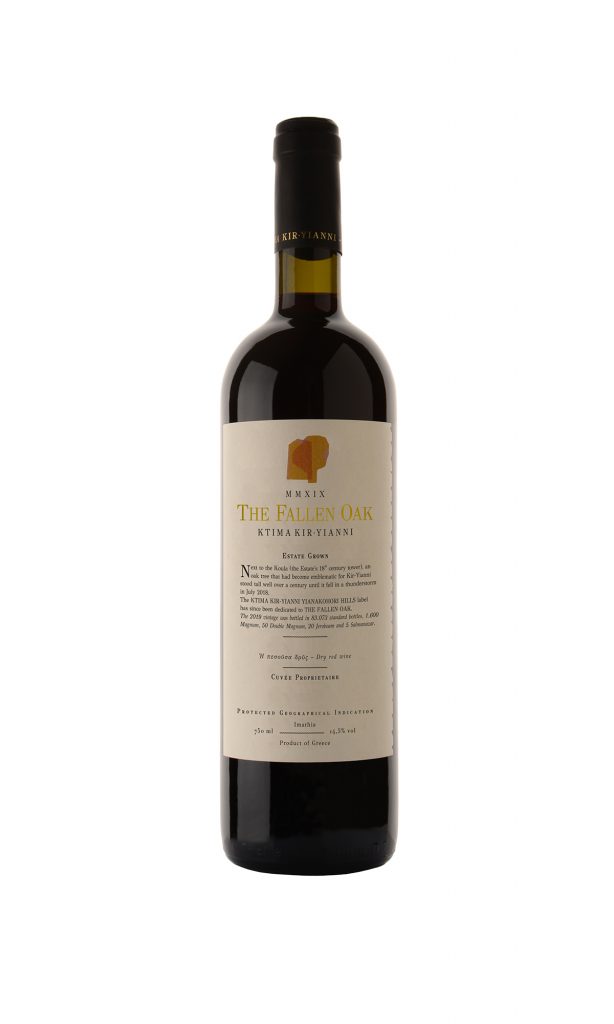 Winemaker's Note

Kir-Yianni Estate 2009 is a wine with a deep red color and aromas of oak, cherry, strawberry and tomato lying on a background of prune and cinnamon on the nose. On the palate the wine is initially soft, eventually showing its powerful character as the tannins gradually mark their presence along with a pleasant acidity, which is balanced by the rich flavors of oak, vanilla and ripe strawberry coming from the Xinomavro. The finish is long with lingering red fruit notes.
Varieties
40% Xinomavro, 60% Merlot
Production
12 months in 225 and 500 lit barrels, plus 6 more months in bottle prior to release
Cellaring
14 months in 225 L French and American barriques plus a minimum of 6 more months in bottle prior to release
Origin
Block selection within the private vineyards at Yianakohori, North Greece
Food Pairing
Excellent pairing with cooked or grilled red meat, charcuterie and yellow cheese
Analytical Data
Titratable acidity:
6.7 g/L
Volatile acidity:
0.69 g/L
Residual sugar:
2.8 g/L
Phenolic index:
n/a
Color intensity:
n/a
Free/Total sulfites:
n/a
After two consecutive years of extremely hot and dry conditions, the 2009 season came to replenish the water shortage. Atmospheric humidity during the growing season was the highest observed over the last thirty years and summer temperatures did not rise sufficiently to check the outbreak of downy mildew. Nonetheless, disease did not reduce crop load, as timely disease control ensured proper vine health. On the contrary, water excess raised crop loads relative to the last two years. Xinomavro was picked mid-October. For the most part, the very slow and late ripening allowed continuous berry enlargement with subsequently lower maturity and acidity levels, yet satisfactory phenolic profile. The new blocks planted solely with the preferred Xinomavro clones demonstrated once again their superiority. Meticulous selection process proved to be even more useful during this difficult year.
Sorting out grapes not bunch by bunch, but berry by berry, we managed to retain our highest quality standard constant, albeit at an extra cost. So despite the challenges of the year we expect wines with intense and fine aromas, medium colour intensities, full-body, and a surprisingly charming harmony.
The vineyards have an overall southeast exposure at an altitude of 280-330 m. The estate is divided in forty two distinct parcels of different microclimate, which is a function of varying orientation, inclination, and soil type. Silt, loam, and clay are found in equal proportion. Rainfall is abundant during the winter months, but summers are so dry that minimal drip irrigation is applied to prevent heat damage. The density of the vines ranges from 3.500 to 4.000 per hectare and the average crop yield is maintained below 2.5 kg per vine. A parcel of 1 ha is planted with various local Greek varieties for experimental reasons.
The grapes are handpicked and placed at a sorting table before destemming. After a five-day cold prefermantion at 8-10° C, the must undergoes a 12-15 day vinification at controlled temperatures. During postfermentation warm temeratures are applied, followed by malolactic fermentation in new 225l french barrels. In early January the new wine is put into two and three year old barrels for further aging. After about a year the wine is bottled for further aging before released into the market. The winemaker's main objective is to achieve balance between the fruit, the acidity and the high but ripe tanins of the wine.