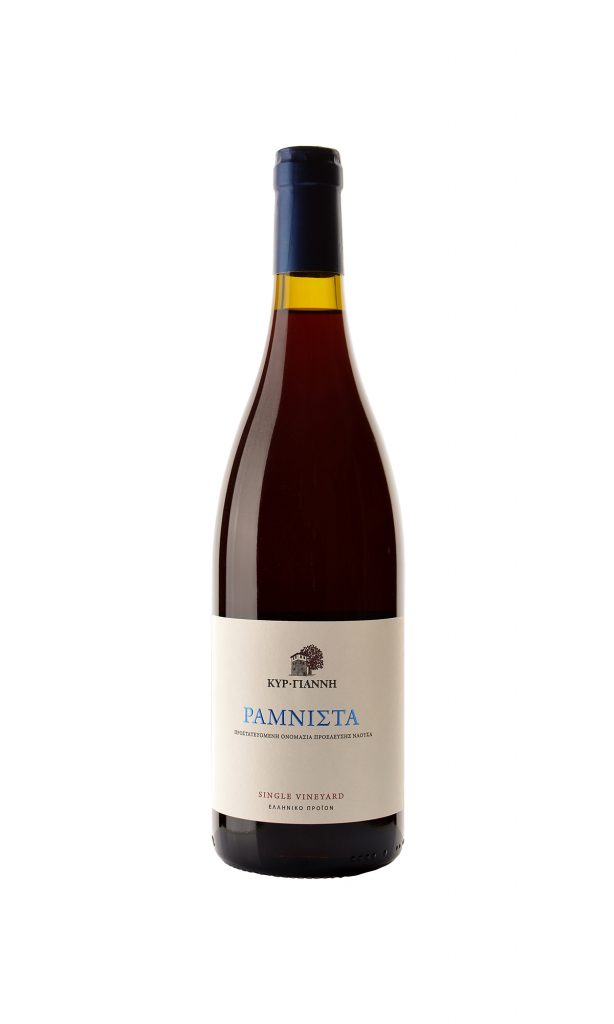 Πληροφορίες εκ των έσω

Aromas of ripe strawberry, cherry and black pepper, along with varietal and barrel-aging notes of liquorice and ginger, robust tannins offering a firm structure and a lingering, fruity finish compose the typical expression of a Xinomavro harvested in an outstanding year.
Ποικιλιακή σύνθεση
Ξινόμαυρο 100% (παλαιά κλήματα)
Δυνατότητα Παλαίωσης
10-15 years
Ωρίμανση
16 months in 225-lt and 500-lt French and American oak casks plus further ageing in bottle for another 6 months
Προέλευση
Selected vineyard blocks within the private vineyards of Kir-Yianni Estate in Yianakohori
Γευστικοί Συνδυασμοί
Complex, with intense acidity and rich in tannins, an excellent pair for red meat and game.
Αναλυτικά Χαρακτηριστικά
Αλκοολικός βαθμός:
13.4%
Ολική οξύτητα:
6.0 g/L
Πτητική οξύτητα:
0.57 g/L
Φαινολικό δυναμικό:
73.4
Χρωματική ένταση:
5.55/0.84
Ελεύθερα/Ολικά θειώδη:
15/85 ppm
After three consecutive years of rather average quality, it looks like in 2011 Xinomavro comes back to its very high standards. This year the weather helped the grapes to reach good levels of phenolic maturity with relatively low potential alcohol, which is one of the things that we try to achieve during the last years. After a rainy month of May, the long period that followed was dry but with no extreme temperatures. As a result, the grapes ripened well, while the absence of heat waves during summer resulted in grapes with very good levels of acidity, which, in their turn, gave wines with long aging potential. It seems that 2011, just like 1994 and 2001, will be one of these years that only come once in a decade!
The vineyards used for Ramnista have an overall southeast exposure at an altitude of 280-330 m. Rainfall is abundant during the winter months, but summers are so dry that regulated drip irrigation is applied to prevent water stress. Vine density ranges from 3,500 to 4,000 per hectare and the average crop yield is maintained below 2.5 kg per vine. For "Ramnista" we use grapes mostly from the vineyard blocks in the lower pH range and with lighter soil types to maximize the aromatic intensity and complexity.
The grapes are handpicked and sorted on a conveyor belt before crush. After a six–day pre-fermentation cold soak at 8-10° C, the must undergoes a 12-15 day fermentation at controlled temperatures of no more than 25°C. Roughly one third of the wine ferments in open-top tanks with pigeage. The final blend is made five months after harvest and the last racking takes place about six months later. Both French and American barrels are used, 25% of which is new oak, and about 25% 500-lt casks. The wine is filtered very lightly.